In a world increasingly afflicted by intolerance, disrespect for others and blatant rejection of different ways of living and thinking, training youth on diversity and acceptance has become more important than ever. Amel Association International was therefore delighted to co-lead the one-week Erasmus+ seminar 'Respect for Diversity: Everybody's Business', in partnership with Czech NGO Tom Dumánci, which actively works with young people. Erasmus+, funded by the European Commission, regularly organises educational projects to provide youth from the EU and beyond with opportunities to travel, volunteer, study and undertake short-term educational trainings abroad. Euro-Med projects – those that bridge continental Europe with the Mediterranean countries of the Levant, – are especially engaging, given the intercultural dialogues and exchanges that naturally occur in such encounters.
Set in the heart of Beirut, the seminar brought together 29 participants between the ages of 20 to 35 from 9 different countries: Lebanon, Syria, Jordan, Morocco, Turkey, Latvia, Estonia, Czech Republic and Poland. Most of them work with youth in some form or another in their own countries, either as volunteers in national NGOs or as full-time employees in a variety of sectors, including policy-making, education and the private sector. Ieva Grundsteine, from Latvia, facilitated the non-formal learning session, building on close to 20 years of experience in training young people all over Europe.
To Amel in particular, youth empowerment constitutes a key pillar of its development programme in Lebanon and is being implemented in 11 of its 24 centres, including in Haret Hreik, Ain el Remmaneh and Chiyah (Beirut) and Arsal and Mashghara (North and West Beqaa respectively). In 2018, Amel organised a series of activities based on initiatives taken by youth volunteers, such as youth exchanges, NGO fairs, environment-friendly activities, human rights campaigns and volunteering stints with other NGOs.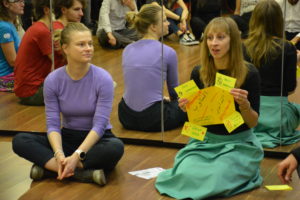 During the first three days of the seminar participants engaged in a series of ice-breaking games and trust-building tasks, aimed at getting to know each other more, learn about their respective countries and exchange opinions and thoughts on diversity. One such activity, on day 1, involved grouping all participants into 'families' – Dbouk, Barakat, Itani and Hammoud (all Lebanese names) – to venture into Beirut and interact with locals. For several of the European participants, this was their first visit to the MENA region, and meeting people from all backgrounds and religions helped shatter long-held stereotypes and assumptions about the Middle East. On day 3, participants were grouped again to engage in a self-directed intercultural experiential learning activity, with the aim of exploring special places in Beirut while paying close attention to underlying cultural layers in the capital's streets.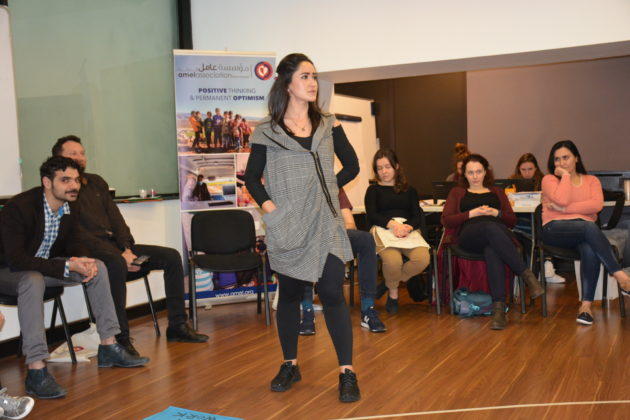 20-year old university student Jan Techner, from Poland, said that this was one of the most memorable aspects of the seminar. "We went sightseeing with Hisham*, who told us about the civil war in Lebanon and taught us about Beirut's history." Hisham, (one of the participants) is from Syria, now residing in Lebanon ever since the war in his country broke out. 28-year old Mouna Boujbir, a policy and strategic analyst in Morocco, said she loved seeing the Downtown area of Beirut, where the Mohammad Al-Amin Mosque and the St. George Cathedral stand side by side. "This reflects the coexistence that we must see in all countries", she noted.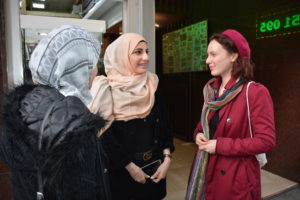 Hassan*, a 31-year old radio and audiovisuals student at the Lebanese International University and now a refugee in Lebanon after fleeing his hometown Damascus, noted that one of the most interesting aspects of the training was the smart way in which people were grouped together throughout the week – whether by 'families' to visit Beirut, by nationalities to make presentations about the respective countries, etc. "I loved this strategy. In the first day you belong to your family, in the second day you belong to another group for some other purpose, but then you return to your family group for another task… This is applying real life in small activities. You can go out and belong to other teams, and then share what you learnt with your family."
On day 4 participants went to Khiam, Southern Lebanon, to meet Syrian refugees living in informal tented settlements (ITSs) and learn more about Amel's field-based work in the area. The Erasmus+ group arrived at Sarada camp just as children were concluding their non-formal education classes at Amel's mobile educational unit (MEU), commonly referred to as 'Amel's Bus'. Amel's mobile medical unit (MMU) was also stationed at the camp, providing primary healthcare and non-emergency services. The bus makes stops at each ITS in the Khiam area once per month. After playing with the children in the camp, participants were invited into people's tents and were offered Arabic coffee, witnessing first-hand the generosity and hospitality that the Arab world is famous for.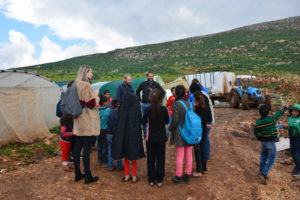 For many participants this was their first visit to a refugee camp, and, unsurprisingly, most of them cited this as their most memorable and eye-opening experience of the seminar. "Visiting the ITS has been a life changing experience for me" says Jan. "People in my country are not particularly interested in refugee issues.  I intend to share what I have seen back in Poland, especially amongst more closed-minded groups." Lada Matyasova (30), from Czech Republic noted: "Seeing people's strength was truly inspiring. It has made me think about what happiness is." Lada will be taking everything she has learnt in Beirut back to her country and raise awareness on the plight of refugees by running some experiential learning workshops. Participants also visited Amel's Khiam Development Centre, where they learnt more about Amel's services in providing quality healthcare and non-formal education, as well as its commitment to combatting gender-based violence. During lunch the Lebanese, Syrian and Jordanian participants danced the 'dabke', introducing their new friends to the traditional folk dance of the Levant.
Another highlight of the week was spending the afternoon at Amel's Haret Hreik centre, where the Erasmus+ participants met and interacted with youth beneficiaries at the centre, as well as students from the American University of Beirut (AUB). One of the most eye-opening activities was perhaps the 'Human Library', where youth from the centre individually explained their life stories to small groups in different rooms; participants had the opportunity to choose whose story they wanted to listen to in a rotational system. One young man, an Iraqi refugee, talked about his experience of migrating to Lebanon following persecution in his own country. Another Syrian woman spoke of her devastating experience when she lost her grandfather, the major source of financial support for her and her family. Participant Mouna added that she was encouraged by the positive energy in the centre, a coping and survival mechanism for many of Amel's beneficiaries.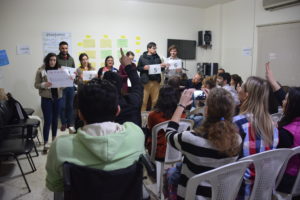 Back at Hamra Urban Gardens, where most of the training was carried out, participants also shared their own experiences in promoting and developing respect for diversity. Lebanese 31-year old Bassel Richie, now working with Amel, talked about his 2015 viral movement 'Muslims4Lent', which encouraged Muslims all over the world to stand in solidarity with Christians by giving something up for Lent. Gunita Kulikovksy, 28 and from Latvia, introduced the concept of immersive journalism through VR and 360° films, which place the viewer in a particular situation – for instance a prison cell or a refugee camp – , and helps viewers increase their empathy. Trainer Ieva described her involvement in carrying out the UNHCR Passages simulation game earlier last year, where participants were put through the experience of being refugees to become aware of the all-to-familiar grueling migration process that millions of people around the world, but especially in the Middle East, have been through.
The seminar concluded with a speech by Amel's Founding President Dr. Kamel Mohanna, who discussed Amel's vision and outlined the five pillars that lie at the core of the organisation's mission, which seeks to ensure human dignity for all:
All humanitarian action that does not work with vulnerable people is not a humanitarian cause;
There should be no double standards between South and North when it comes to humanitarian actions;
There should be a fair distribution of wealth in the world;
We must build states that are grounded in welfare and justice for all;
We must advocate for the fair cause of the people, first and foremost the cause of the Palestinians.

Dr. Kamel Mohanna with several of Amel staff and Erasmus+ participants / Photograph by Majá Svobodová
Dr. Kamel later signed his book, 'The Epic of Difficult Choices' for participants, who were particularly impressed by Amel's wide range of programmes and by its spirit of solidarity with the most vulnerable groups, regardless of their background, origin, political affiliations or religious beliefs. Dr. Mohanna also outlined Amel's motto of 'positive thinking and permanent optimism' to combat some of the most horrific humanitarian situations and emergencies in the Arab world.
Turkish national Ugurcan Bal (35) noted that civil society organisations like Amel are extremely important. "If Amel and other similar associations cease to carry out their work we cannot see people do well or be happy." He added that Amel's emphasis on solidarity has also greatly impacted him. "I see that Amel is not about charity or giving money to people, but about humanism, and this has had a big effect on me". Similarly, Betul Tuhran, 32 and also from Turkey, noted that she was very impressed by Amel's vision and really liked its positive approach to humanitarian work.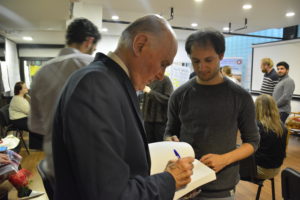 25-year old Rand Abdallah, who works at the I Dare for Sustainable Development youth portal in Jordan, noted that she will use this experience to suggest a week on diversity with her organisation. "Educating youth is important, particularly in Arab countries, because without education there are few opportunities here" she added. Valters Liberts, a 21-year old student of physics, volunteers with the elderly in Latvia. "In my country disrespect for diversity is a big problem, especially against older people. "This week has provided me with an emotional boost to continue my work back home." On Amel, he noted: "There is a sense of belonging, and this is important when doing work with youth."
"This seminar has been an amazing experience" said Agne Junolainen (33), a chemistry and physics teacher from Estonia. "The programme has been very diverse and versatile. It has been a week of self-discovery and of learning new things on diversity, respect and minority groups, while unlearning assumptions that I had." She added: "I want to use this training to change the syllabus of the ethics lessons that we carry out at the school I teach and help my students think about how other people in the world are living."
*Names have been changed for anonymity purposes.