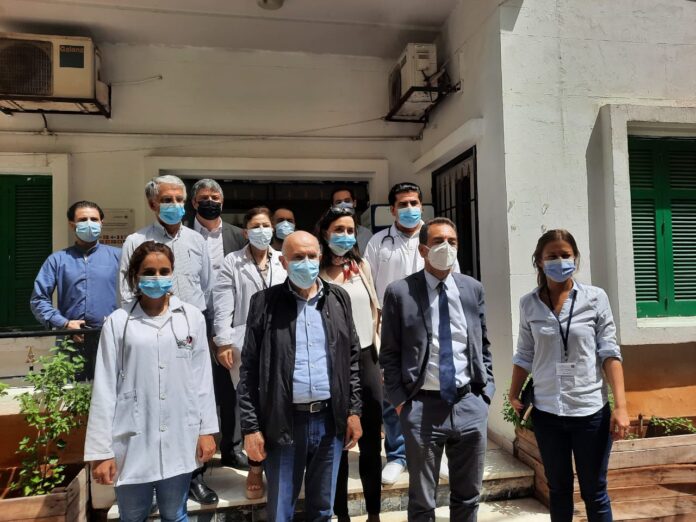 Ambassador Le Chevallier: Amel presents the best image of Lebanon
Mohanna: "Amel" works to ensure human dignity to build a state of social justice
The president of Amel Association International (Amel), Dr. Kamel Mohanna welcomed a delegation led by the director of the crisis center at the French Ministry of Foreign Affairs, Ambassador Eric Le Chevallier at Amel's medical-social center in Ain El-Remmaneh. He was also received by the coordinator of programs and partnerships, Virginie Lefèvre, and the members of the board of directors, Ahmad Abboud and Dr. Zeina Mohanna and representatives of the health committee.
The purpose of this visit was to get acquainted with Amel's center which has been supporting the populations of Ain El-Remmaneh since 2007, through various health, psychosocial support and women's empowerment and rehabilitation programs in addition to the education program for children. Obviously, Amel has readapted the activities and services of its programs in the light of its central plan to face the Corona pandemic.
The visit began with the introduction of the health coordinator of the different services presented to the beneficiaries, including home care for COVID-19 patients and the provision of oxygen machines, in addition to medication and psychological support. Dr. Chevallier in turn spoke with a group of beneficiaries about the effectiveness of the center, their needs for its existence and the general difficult situation that weighs on them.
Dr. Mohanna thanked the delegation for its continuous support to Amel's programs and for its humanitarian struggle, and affirmed that Amel the non-sectarian civil NGO, which has been operating for more than four decades, has a mission to protect the dignity of people and to build a state of social justice.
Given the deteriorating socio-economic situation, Amel will continue through its 27 medical-social centers and six mobile clinics, its two mobile education units, its special care unit for street children and its 1000 full-time employees, to serve the popular groups in the marginalized areas in order to protect the dignity of every human being regardless of their affiliations and in order to strengthen the model that Amel has accumulated and to offer concrete solutions to build the Lebanon we dream of and deserve.
Mohanna pointed out that the distribution of Amel centers in the regions that are located in conflict areas, such as Chiyah and Ain El-Remmaneh represents the philosophy of Amel that seeks to open the horizons of dialogue and cooperation between the peoples of the two regions to reduce the chasm caused by the civil war and build the state of citizenship.
Ambassador Le Chevallier praised Amel's efforts in the difficult phase Lebanon is going through and its pioneering role in the work of strengthening humanity. Thus, the ambassador stressed the need to support Amel and other humanitarian institutions to face Lebanon.