"As Syrian refugees living in Lebanon we need sponsors to find work and this is hard to do. We cannot find jobs." 
Hala Achrafi (50) arrived in Lebanon five years ago. She lives in Beirut and has been coming to Ain El Remmaneh Development Centre ever since. We are also joined by Ghada Haidar (49) a Lebanese beneficiary who has been with Amel for ten years. We sit around a small table in one of the rooms at the centre. Both of them work on their crochet as we speak.
During their time at Amel both women have taken a wide range of courses, including English and IT classes, and have undergone professional training in accessory-making, chocolate-molding and hair styling, among others. Ghada says that learning from other trainers and showcasing her work at university exhibitions has given her the confidence to become a trainer herself. Hala, a trainer too, also produces her own chocolate line to cater for special occasions. Things are nonetheless difficult. "I don't have any work relationships here and it is complicated to get access to materials, so I order everything I need from Syria and get it shipped over" she says. Both women sell their products through Amel's own Menna shop, located at headquarters in Salim Salam Street, and market their work through Facebook.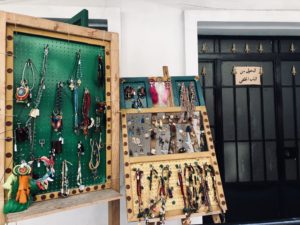 Ain El Remmaneh is all about women's empowerment. Run in collaboration with the United Nations High Commissioner for Refugees, the centre's protection and vocational training unit provides services to over 250 women every three months. The centre used to cater to the needs of Iraqi and Sudanese refugees initially, but now most of the beneficiaries are Syrian. There are also some Egyptian, Ethiopian and Philippine refugees who come too, though they are a minority. Hala notes that her exposure to other nationalities and seeing other people adapting has helped her and other Syrian refugees adapt too. When they come to the center they take classes together, drink coffee and engage in a community designed to support one another.
As we enter the kitchen we meet Mariam Abbas (44) an Iraqi refugee who has been in Lebanon for 21 years. She has been coming to Amel's Ain El Remmaneh Centre since 2011, for 2-3 days every week, and has a particularly difficult story. Married to an abusive husband whom she later divorced, she was unable to bring her three children with her to Beirut when she re-married again (due to the cultural stigma associated with another man's children living with their mother and her new husband). She is their only support system but now sews and embroiders beautiful pieces that she sells through exhibition galleries. 
The gallery usually asks for smaller pieces, but I just make them large" she says laughing. "Every piece takes around 4-5 days to complete, and I can usually get $20 dollars per small item".  As she showcases examples of her work, she says they are her only source of income, but that she gets paid slightly more given her own personal struggles. Now in a position where she is able to provide for her children currently living in the south of Lebanon, she feels strong and empowered.
Professional training provided at centres like Amel helps the UN's fifth 2030 Development Goal, which concerns gender equality. Part of the aim involves recognising and valuing unpaid care and domestic work and promoting shared responsibility within the household and the family. A recent assessment on the vulnerability of Syrian refugee households in Lebanon shows that women-headed households are more vulnerable on every single level than male-headed households. Around 82% of female-headed households live below the poverty line compared to 75% of male-headed households, and 56% of female-headed households have no working members, compared to 35% of male-headed households. Members of female-headed households are also less likely to be granted legal residency, which makes finding work all the harder.
But women's empowerment must go beyond professional training. It should also be about offering psycho-social support to women who have experienced traumatic events or who are struggling to adapt to their current situation. Youmma Naffaa, a psychologist at the centre who has been here for close to two years, says that one of the biggest aims of the support system at Ain El Remmaneh is to give advice on parenting and family relations.
"UNHCR requests we launch campaigns that increase knowledge on certain domestic issues that women can then take back to their husbands" she says. "Syrian husbands here have a hard time accepting that women in Lebanon have an education, that they can work and come and go as they like. They are used to their wives doing all of the child-rearing and do not help them at home". She adds that couples' counseling is a big area of focus within the centre, as husbands tend to be controlling of their wives as they become more independent.
The Ain El Remmeneh centre has thirteen outreach volunteers – 9 Syrians, 3 Iraqis and 1 Lebanese –  who are each tasked with referring seven people back to the centre. They are effectively Amel ambassadors in their own communities and are examples to other women on how to become more self-reliant and feel more integrated in Lebanon until they can return to Syria.