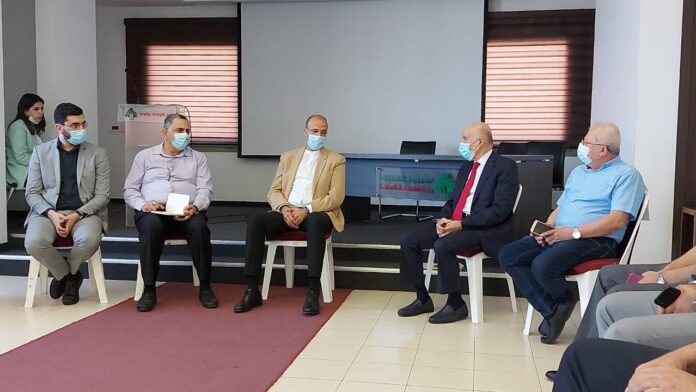 The members of the Lebanese NGOs network  and the steering committee of Lebanese and Palestinian civil society organizations were received by the Minister of Health Dr. Hamad Hassan.
During this meeting, the collective suggested to the minister to send a medical relief plane to the Gaza Strip under the supervision of the Ministry of Health and in coordination with the World Health Organization. It considers that this mission is part of its humanitarian approach to mobilize for just causes, in the forefront of which is the Palestinian cause.
The general coordinator of the collective association, Dr. Kamel Mohanna, said after his meeting with Minister Hamad Hassan: "We proposed to the Minister to equip a plane with medical equipment and medicines and send them to the people of Gaza. To this end, a committee in charge of procedural issues has already been formed to implement these initiatives as soon as possible.
At the end of the meeting, a final declaration condemned "the crimes committed by the Israeli occupation against the Palestinian people under the eyes of the international community. The collective protests against "the process of ethnic cleansing that is taking place in the neighborhood of Sheikh Jarrah, in defiance of international conventions recognizing Jerusalem as an occupied city." It also accuses of complicity of some Arab countries whose "timid attitudes are far from matching the Israeli crimes, which in one week have killed more than 200 unarmed civilians, including 61 children and 16 elderly, and injured thousands in this area under siege for years."
This statement, read by Dr. Kamel Mohanna, calls on "friendly peoples and Arab countries to support the Palestinian people". Likewise, the international community is called upon to "play an equitable role in the protection of civilians" in accordance with Article 147 of the 4th Geneva Convention.
Finally, the members present at the meeting salute the bravery of the people who are rising up in all the towns and villages of historic Palestine, and those who are enduring the most difficult conditions in the Gaza Strip.