Contrary to popular belief, violence is not restricted to just physical harm and aggression. While gender-based violence includes rape, sexual assault and physical aggression, it is also about early and forced marriages, emotional and psychological abuse and denial of resources and services. This means there are six clusters of exploitation to which anyone, but especially vulnerable women, can be susceptible to.
Actual instances of gender-based violence in Lebanon are hard quantify. Data is not readily available to indicate the scale of the problem, and the little information we do have does not account for unreported cases of GBV or for the instances that fail to be recognised as GBV by the victim and her family, for example.
A study in 2016 made in partnership with the UN revealed that people living in Lebanon know of, on average, 1.7 cases of family violence, most of which are women and children. That means that 44% of Lebanon's population knows close to two people who have been subjected to family violence. This number peaks in the Beqaa Valley and the northern-most regions of the country.
Nonetheless, media and widely-available internetsources have a proven track-record of sparking awareness of family violence, with 97% of Lebanese having been exposed to this matter through mostly television and social media. Amel's own movie nights in South Lebanon and the Beqaa Valley (made possible through the Mobile Educational Unit) help to increase these numbers.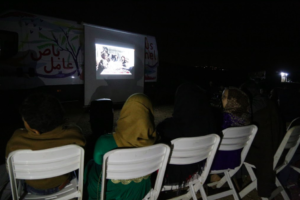 Amel's gender-based violence awareness campaigns are especially important for women and girls living in both these regions of the country. A recent study found that women and girls in southern Lebanon felt that poverty, an inability to adhere to gender roles and rising living costs were direct contributing factors to GBV. Syrian refugee women in particular are especially vulnerable, for their displaced status and the absence of strong family networks that typically offer protection make them more susceptible to falling victim to sexual and physical violence.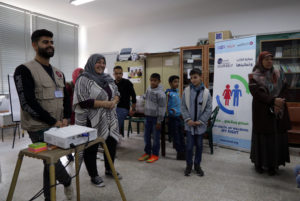 Moreover, refugees in Lebanon, especially those living in informal tented settlements (ITSs), face a  series of risks, including forced eviction, potential raids, and arrests due to their residency (which is many times illegal). Refugees also face lack of assistance from the state and are discriminated against in the workplace. Other vulnerabilities include having little knowledge of services and organisations that could be of help, as well as the hardships associated with adapting to a new country. All these risk factors contribute to the incidence of GBV.
Furthermore, men, who are traditionally the head of the household yet in these dire circumstances are unable to provide the protection and security typically assigned to male roles, can often become violent towards their families, especially their wives. Women are also increasingly critical to sustain their families and are often forced to take on new work responsibilities that can lead to exploitation, harassment and other forms of violence.
Back in 2016, it was noted that 49% of Lebanon's population believe that a GBV victim should file some sort of complaint (though not necessarily at court) while 36% of people would encourage a woman to turn to her family for support. Around 25% of respondents in this study noted that a victim should turn to sharia or ecclesiastical courts and work with a competent organisation to resolve the matter. 13% of respondents believe a woman who has been abused should remain quiet and have patience, at the risk of deteriorating an already precarious living and family situation. Only 5% of respondents would encourage a women to get a divorce.
Amel's 'Empower and Protect Yourself' GBV awareness project started in March 2018 and has been implemented in schools in Tyre, Bazouriyeh (Beirut) and Khiam since. The programme has various objectives according to the target age. For instance, children between the ages of 12 and 18 engage in psycho-social support (PSS) activities while working on life skills that encourage respect for women, girls and their rights. The project also works with parents to raise awareness of the risks associated with GBV.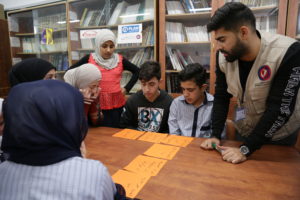 Amel's awareness campaigns furthermore challenge girls and boys to think about what leads to GBV. In a recent educational event in a school in Al Abassiyeh, right next to Tyre, twelve boys and girls found that the main reasons for GBV are poverty and limited access to an education. When asked by teachers whether it is normal for a girl to get married at the age of 12, they said it was not.
Indeed child marriage is a growing problem in Lebanon, resulting from economical and cultural barriers amongst poor and destitute families whose only choice is to force their children to work or get married young. Marriage before the age of 18 poses a series of risks, including early pregnancy and mortality. It also cuts girls' future short by neglecting their right to a proper education and eventual access to decent work. All of this of course, increases the likelihood of GBV.
Amel also organises theatre events to address issues that relate to violence against women, where female participants often act out instances of GBV. This gives them a voice, enabling them to feel empowered to tell their stories and contribute to change within their communities.