Every Friday evening Amel Association International's education team in Khiam picks one informal tented settlement (ITS) to screen a film. It will be projected onto the mobile education unit, commonly referred to as 'Amel's Bus'. The movie may have an underlying educational purpose – like raising awareness of the problems associated with early marriage – or it may just be a recreational film for entertainment's sake, to create positive memories. In any case, film nights are a good way to bring information to people and encourage community participation.
The film's theme depends on each individual camp's situation at any given point in time. If, for instance, Amel's educational social worker and psychologist in Khiam observe a growing problem brewing in one of the settlements, that settlement may be the focus of the next awareness movie. Every day the bus goes to several camps to deliver non-formal education (retention-support activities) to children living there, so this is when Amel staff can pick up any concerns that need addressing.
This Friday, the bus arrives to a camp in the Wazani area, unannounced. Children run towards it as the bus approaches. Parents emerge from their tents to see what has caused their children's excited chatter. It is pitch-black outside. If the bus is coming at this time of day it can only mean one thing: a fun evening just waiting to unravel.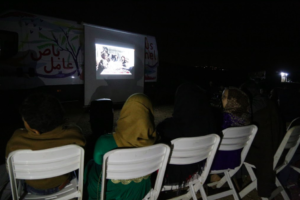 The children help Amel's staff set up the screening space, on the peripheries of the camp. They line up the chairs in rows in front of the bus, while animators set up a foldable screen and a projector on a table opposite. Mothers with babies in their arms come to join and sit behind their children, waiting. This evening a series of short films will be screened featuring Syrian icon in comedy, drama and education Duraid Lahham. The adults know the actor well. The children have heard he is legendary.
In one film, Lahham plays the role of a man who helps a young apple vendor that gets hit by a car. That boy, now a man, becomes a doctor and helps Lahham find his lost daughter. The underlying message: kindness is repaid by kindness. In the next film, 'Al-Aba'a Al-Sighar', Lahham is a poor police officer who left university when his wife died to provide for his children. The latter decide to help him by secretly renting one of their rooms to an Egyptian lady, who provides a much-needed additional income that allows their father to complete his education and get a better, higher-paying job. The lessons taught here are the importance of education and family unity, for the benefit of all.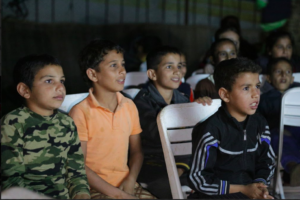 When the films end, the children insist on listening to songs, especially as they want to dance to 'Dabke', a folk dance typical of the Levant. They also want to listen to the remix version of Ya Lili, a Tunisian song by rapper Balti and child singer Hamouda that has racked close to half a billion views on YouTube, and is obviously popular at the camps.  Here is where the real fun begins for the children, who spend the next half hour singing and dancing, while their parents watch and cheer them on.
After a few hours it is time to go, but not before asking the children what they have thought about today. They are all eager to give their input. Iman (11) says she is very happy. "I now know how to dance, and I have learnt how to have fun" she adds. Furat (10) notes that his favourite part was dancing to Ya Lili. He comes regularly to study at Amel's bus, where he enjoys learning Arabic and English. "I am happy that the bus is coming to us and benefitting us", he says. Shared (10) adds: "The best part of today was being happy."
The films are a respite to the daily struggles of life in the tents. The problems here are vast, and seemingly insurmountable, yet entertainment evenings like today are a small source of hope. The bus will come back for another Friday like this soon, after finishing its film screenings at all the other targeted ITSs. Next time the film may be Pocahontas, Frozen, or a special request from the refugees. Movie nights like these have been running for two years in partnership with the Organisation Internationale de la Francophonie.