In almost every Amel's center, our beneficiaries, volunteers and founders will find a computer class, language one or even sewing and cooking areas. The continuous and enormous efforts to empower the most vulnerable ones, no matter their religion, gender or political beliefs, are focused on achieving personal autonomy.
In the World Youth Skills Day, dated on the 15th of July, the United Nations (UN) sheds light into the 16% of the population. 1.2 billion people, aged 15 to 24 years old, knock into shape what commonly is defined as "the generation of the future". Those who will take global challenges such as climate change or gender inequality. However, in spite of the huge expectations that are carrying, they are also facing generational defiances.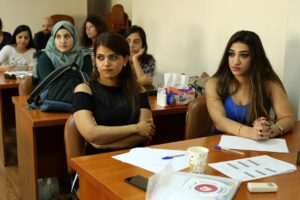 According to the United Nations, the young ones are "almost three times more likely to be unemployed than adults". The work issue runs through borders and continents, bringing together all the nations around the world. In this context, "education and training are central", says the UN. The gender disparity is also a very sensitive matter that must be taken in consideration, since "women are more likely to be underemployed and under-paid, and to undertake part-time jobs or work under temporary contracts".
Through Amel's projects, thousands of young generation have been benefiting of Volunteering and Youth Empowerment program, which is one of the several Amel's initiatives in the skills and capacity building field.  Built during the 1980s, in response to the Lebanese society needs, it provides access to education, livelihood training, soft skills, and professional training.