The effects of storms Norma and Miriam are still causing insurmountable problems for Syrian refugees living all over Lebanon. Amel Association International speaks to people in the Kamed el Loz area (Beqaa Valley) about their experience with the floods.
To access Kamed el Loz one must drive on the winding main road that cuts through Mount Lebanon. At this stage in the winter, the mountain range is completely covered in snow. The temperature drops to a chilling 9 degrees. On the other side of the mountain, the Beqaa Valley is dotted with clusters of informal tented settlements (ITSs). The snow disappears but the air remains frigid.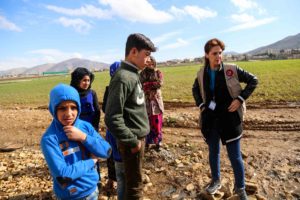 Jeb Jannine is only a ten minute drive from Amel's Kamed el Loz Development Centre and hosts several ITSs. The shawishs, who are typically nominated by the other refugees to make decisions and act as bridges between the ITSs, NGOs and local municipalities, lead the team through camps no.006 and no.020. Both camps border the Litani River, Lebanon's largest river. It overflowed when Norma struck on January 6th, flooding many people's tents. On January 16th, Miriam wreaked even more havoc.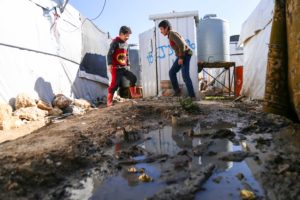 Following several days of extreme weather, camp no. 006 is covered in muddy puddles. The tents still stand but they are soaking wet. The stench of damp earth and sewage fills the air – with the heavy rains many toilets have overflowed.  Women and children lead the Amel team through the narrow mud paths connecting the tents. Many of them are wearing sandals with no socks. Some are wearing no shoes at all. Their feet are exposed and dirty, and very, very cold. Refugees here should be wearing more layers, but the few clothes they do have are struggling to dry in the mild sun.
Ahmad Selefi, in his 30s, invites us into his home. "I have been in Lebanon for five years" he says, "and this is the third time my tent gets destroyed." Indeed heavy storms and floods are not a new occurrence. In this part of the country they are, in fact, quite normal phenomena. Local responses however continue to occur within the context of humanitarian emergencies, managed almost exclusively by local NGOs like Amel, in partnership with UN agencies. All have been working tirelessly to provide essential clothing and food to those affected. Earlier during the storms, Amel's Mobile Educational Unit provided transportation to families in the Kamed el Loz area who were in need of temporary shelter.
This, however, is not the solution to recurring floods. Reactive approaches mitigate, at best, some of the devastating consequences of being wet and cold. Proper proactive measures are needed to avoid floods, overcrowding and polluted water, requiring funds that Lebanon simply does not have. Back in May 2018 UN agencies warned of an imminent funding crisis, a "donor gap" when international donors failed to provide $5.6 billion needed to support 5.5 million Syrian refugees living in Turkey, Jordan, Iraq, Egypt and Lebanon, the countries that are bearing the brunt of this humanitarian crisis. The UN collected only 18-22% of the funds. With Norma and Miriam, we are witnessing the consequences of that gap. "The issue is also highly political" says Amel's President Dr. Kamel Mohanna. "The money is not there and donor fatigue is running high. We must find a political solution to the Syrian war and in the interim foster societal values based on solidarity and humanitarianism."
A woman in her late 40s demonstrates her home in camp no.006. Her tent is completely empty. The concrete floor is still wet, even though she has been removing water from her tent for days. The wooden pillars holding up the structure are decaying. "I live here with my family. We are twenty-five people, including all my grandchildren. Every night we set up our mattresses and blankets to sleep in any way we can. Where do you want us to go?" She adds that she and her family stayed at a temporary shelter for two days before returning to their home and attempt to re-build it. "This is by the far the worst experience we have had as refugees" she notes. Outside, her daughter squeezes water out of the blankets that cover the plastic sheets that make up the walls and roof of the tent. There is nothing to do but wait for everything to dry.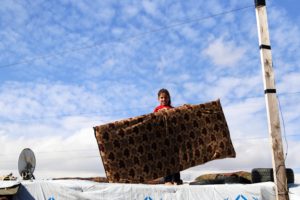 Another woman carries her one-month old baby in her arms. Young children and infants are especially vulnerable to the effects of floods and polluted water. The majority of the inhabitants at camp Jeb Jannine no.006 are children – 300 of them live cramped in 60 tents with 240 adults. The woman points to the roofs of some of the tents, where a child holds up a mattress. "This is what we have to do to dry them" the woman says. They are forced to resort to any means to salvage anything they can.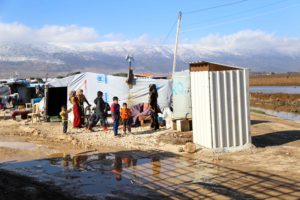 At camp no.020 things are just as desperate. The entrance to the ITS is a bed of mud. The snow-capped mountains in the background, though undeniably beautiful, remind refugees that winter can be extremely harsh and bitter. In one home the flooding has been so heavy its occupants are still draining out water. Outside, three men are shoveling freshly-made concrete into buckets to set the new floor of the destroyed tent. A two-year old boy stands next to the site, shoeless and crying.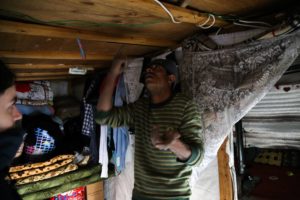 One of the men at the site leads us into his home nearby. He describes how the water has been seeping through the wooden beams of his roof for days. A baby lies in a nearby mattress wrapped in thick blankets. The water is exasperating the cold. His wife adds: "When the storm struck we had to spend the night at my brother's tent. This is a burden." As she wipes a tear from her eye she asks: "What do you want us to do when the water comes into our homes? We have nothing."
The UNHCR estimates that 70,000 refugees, 39,900 of which are children, remain at risk as a result of Norma and Miriam. 574 sites all over Lebanon have been affected, while an additional 850 remain at risk of extreme weather. For the past few days Amel has been distributing warm clothes, blankets and essential food items to all those affected in the area, including in camps no.006 and no.020.