During the second week of February, almost a month and a half after the two violent storms that hit hard Lebanon and the refugee camps, Amel continued to distribute humanitarian aid in the western Beqaa, subject to a particularly long and difficult winter this year.
In partnership with "Sawa For Development and Aid" for the distribution, "URDA" for the organization, and "Medico International" for the funding, the operation was able to distribute to each of these 170 Syrian families food boxes (containing pasta, rice, cans, flours, sugar, etc.) that can allow a family to eat for 4 days and several liters of fuel used by the heaters in each tent.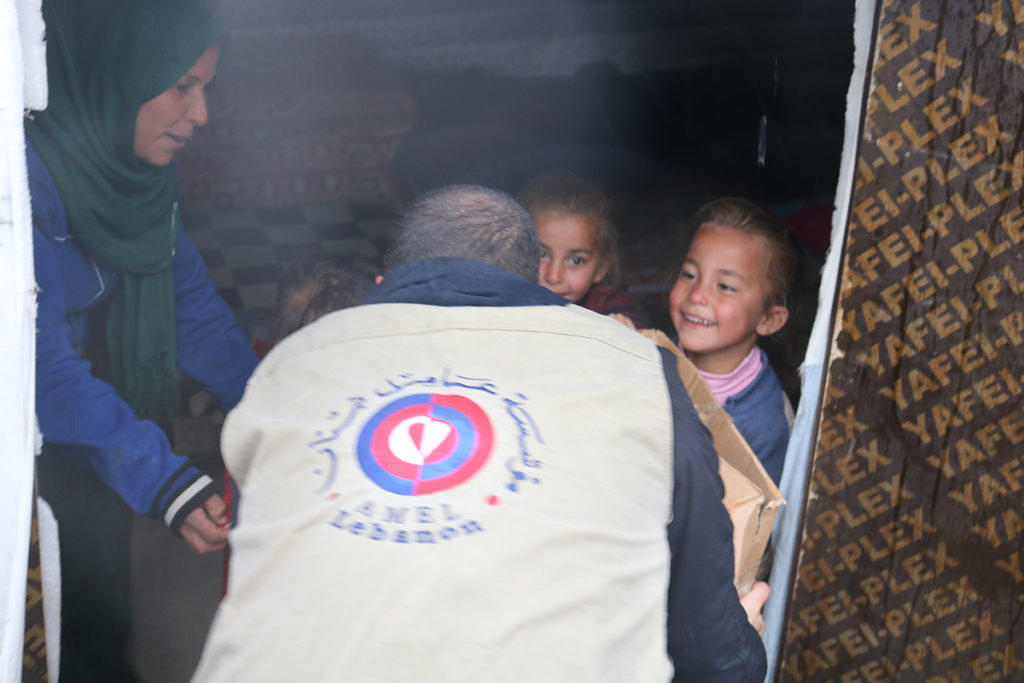 The Bar Elias collective shelter, composed of tents and bungalows, is not the permanent place of stay of those refugees. It is hosting families who are suddenly not able to stay in their usual Informal Tented Settlements (ITS), because they are flooded or damaged for exemple. They can stay and rest, on average 4 or 5 days, and then go back to their original settlement when they are fixed.
In addition to covering humanitarian needs, Amel is offering primary medical health care services to people living in West Beqaa through the mobile medical unit (MMU), launched in 2011, and the Kamed el Loz center, which has been fully operational for the past for decades.
In the context of the Syrian war, in 2012, Amel Association launched an emergency plan to respond to this crisis, in cooperation with international and local organizations. Over the last six years, Amel has provided 2,400,000 services including to populations affected by the crisis including primary health care, education, awareness sessions, training and livelihood empowerment.
Amel's aim is to support these refugees in covering their basic needs, as well as empowering them to rebuild the Syrian society.